TEAM
Welcome to the online home of the Transportation Employees Association of Missouri.
As the voice of Missouri highway workers since 1950, TEAM is a legislative advocacy and employee networking organization dedicated to preserving and advancing a high-quality work environment and fostering a sense of community among our members.
The 2017 legislative session is well underway but we still need your input on what topics matter most to you. Be sure to visit your local chapter representatives to find out what bills we support and what bills we are watching that may negatively impact employees.
Lobbyist Harry Hill continues to be our presence in Jefferson City, keeping TEAM leadership up-to-date with House and Senate actions as they occur. To learn more about what our lobbyist does, Click Here.
This year we will again be advocating for the funding of the state employee deferred compensation match as well as a general pay raise. While we did receive a 2% pay increase as of July 1, 2016, many of us have found that this barely covers our latest health insurance price increase, if it is sufficient at all. TEAM was successful with influencing legislators to support current employees with cost of living increases and deferred compensation match and we look forward to promoting these two most important issues of our members this year as well.

Our members work hard. They play an integral role in ensuring the safety of Missouri's traveling public. They patch potholes in the burning sun, and run plows in the ice and snow. Unfortunately, as employees of one of the lowest-paying state governments in the nation, many are struggling to support their families and make ends meet. TEAM exists for the purpose of making these concerns heard.
If you have a specific request or concern regarding current legislative action, please contact your local chapter president or send an email to robert_terry@sbcglobal.net.
If you are interested in serving TEAM in any capacity, statewide or your local chapter, please contact any of your local officers or Robert Tripp at robert_terry@sbcglobal.net.
Upcoming Events
NEXT STATEWIDE MEETING: May 20, 2017 at the Baymont Inn, 319 W. Miller Street, Jefferson City, MO.
We hope to see you there!
Logo Contest
TEAM members statewide have selected the winner of the logo competition. Congratulations to Gary Goessmann of the Southwest District and his wife Shelley for submitting the winning design! TEAM extends its sincere thanks to all participants who entered the competition. We truly have a talented group of members!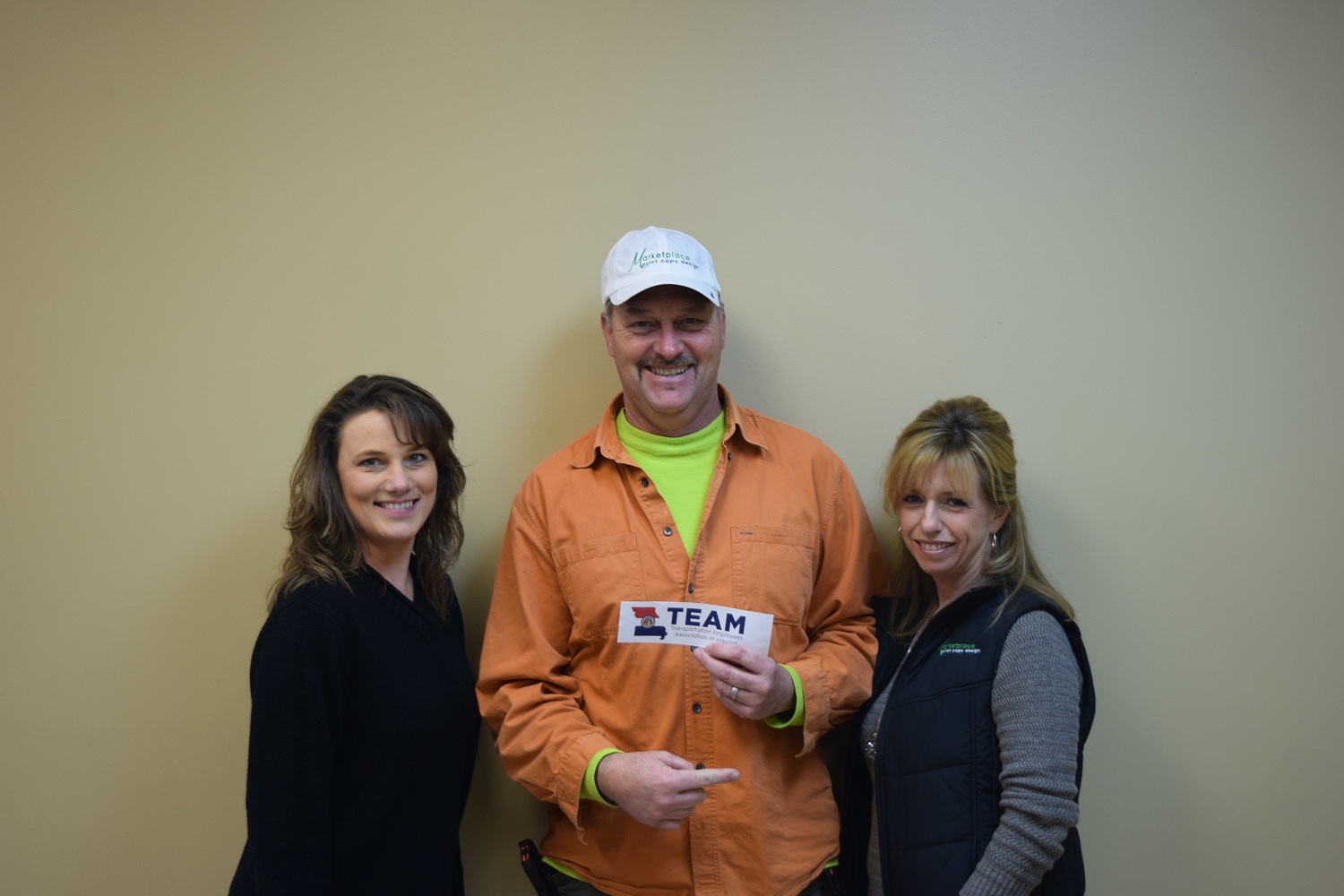 Jennifer Smith, Secretary/Treasurer for the Southwest Chapter presents a check for $350.00 to winning TEAM member Gary Goessmann and his wife Shelly.